Royal Caribbean could return to Dubai in 2015
In:
Royal Caribbean is considering sending a cruise ship back to Dubai in 2015.  Royal Caribbean had ships in the area for a number of years before deciding to remove ships from the Gulf this year.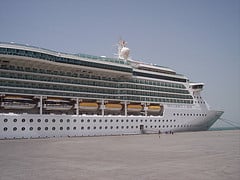 Gulf News reports Royal Caribbean regional director for Europe, Middle East & Africa, Helen Beck, says there is potential for a return.
"We're evaluating it right now … [we're] right in the middle of discussing opportunity for the potential for the 2015/2016 season," she said.
Beck said she was pleased with the "positive progress" across the Gulf Cooperation Council (GCC) countries towards supporting cruise tourism and investments in infrastructure.
Adding to the push to bring cruise ships back to the Middle East is the double digit passenger growth in the Middle East, according to Lakshmi Durai, Executive Director – Middle East at Royal Caribbean.
Beck admits that the UAE and Middle East region is still an emerging cruise market. She said passengers from the United States, China, and other markets still dominated bookings.
Any return to the Arabian Gulf is likely to see similar operations as before with Royal Caribbean likely to dock in Dubai, Abu Dhabi, and Muscat.