In:
Hi everyone, I'm really excited to announce our next live-blog experience as we get ready for a cruise aboard Jewel of the Seas for a 7-night Southern Caribbean adventure.
It is my hope to provide to our readers a daily look at what this cruise will be like and share our experiences with you.  This means I will try to post photos every day along with a written report of how things are going (internet permitting).
If you're new to our live blogs, check out the live blog we did for Freedom of the Seas back in February for an idea of what you're in store for. I'm hoping to give you all a daily look into what we did that day, what was good/not good and what we have planned for the next day.  
For this cruise, we're flying from New York to San Juan, Puerto Rico on Friday, September 20 to start our adventure.  We're flying in a day early because we want to be good little cruises and make sure we get to our port in plenty of time and we also want to explore San Juan a little bit.  We're travelling with another couple and their kid, so it will be quite the family adventure this time.  
Our flight leaves New York at 8:00am, so we will be arriving in San Juan with plenty of time to explore everything before staying a night at the Sheraton Old San Juan.  The next day, we will board Jewel of the Seas as early as humanly possible and start the real fun on September 21!
This is our first time on Jewel of the Seas and first time trying out the Southern Caribbean itinerary.  Our friends that are cruising with us are new to Royal Caribbean, so I'm hoping to get them hooked and Loyal to Royal as well.  We booked this cruise 18 months ago, so we are really excited that this vacation is finally here.
Another first for this cruise will be AT&T invited us to try out their new smartphone cell service package that is exclusively for Royal Caribbean.  Because staying connected while on vacation is so important these days, we thought it would be fun to give it a go.  We will be using the "AT&T Cruise Ship Calling, Messaging and Data" plan, which includes 50 minutes of talk time, 100 text messages and 100MB of data.  Essentially, it's a cell phone package for use only onboard the ship and it will be interesting to see how well it works.  More on this later!
What really drew us to this cruise is the port intensive nature of this itinerary and the fact it's a number of islands that are new to us.  We feel like we've done the eastern and western Caribbean routes enough and want to try something new.  Five out of six islands we are visiting will be new, so there should be a lot of first times for us.  
Who is going
Matt (me), Marissa (wife) & Gabriella (2 year old daughter).  Tim (husband), Sarah (wife) & Logan (1 year old son)
Our itinerary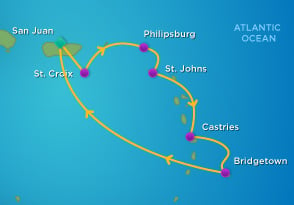 Our Ship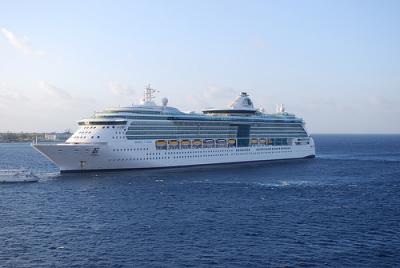 Next update should be on our San Juan day, Friday, September 20.  Stay tuned for all of our live blog updates right here.