Bayonne City Council approves new port facility for Royal Caribbean's Quantum of the Seas
In:
The Bayonne City Council unanimously approved a loan to Royal Caribbean  to provide "non-recourse financing" for Royal Caribbean's plan to expand at Bayonne's Peninsula at Bayonne Harbor.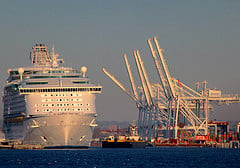 Joe Ryan, Bayonne spokesman, indicated the city would act as "conduit" for the project funds, allowing Royal Caribbean to take advantage of the city's favorable financing rates for the $50 million project that includes a new terminal and parking facility.  The city council approved the request Wednesday night.
"(This deal) means we're not responsible for the debt," Ryan said. "So in this case the city is assisting with the application on behalf of Royal Caribbean, but we would not be responsible for handling the debt. Royal Caribbean is." 
In addition, Royal Caribbean will pay Bayonne a $250,000 application fee and $50,000 annually to monitor the financing. 
City officials estimate the new port facility will be finished just in time for the launch of Quantum of the Seas in November 2014.