In:
With eight ships sailing in and around Italy, Royal Caribbean is expected to bring about 1.5 million tourists to Italy in 2013.  The ports of Civitavecchia (Rome), Venice, Genoa and Naples will all see Royal Caribbean cruise ships stop by.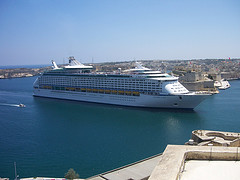 The amount of passengers coming to Italy in 2013 is up 18% from the year before.  The port of Civitavecchia will see the most traffic.
Royal Caribbean director general for Italy, Gianni Rotondo, commented on the increase in cruise traffic, "In 2013, Royal Caribbean began with encouraging results and now we are about to enter a period full of novelty and change.  With the arrival of three new ships in Italy and the addition of Naples in the Italian ports of embarkation, we are closer to the goal of improving and diversifying what we offer in the area."
"Italy is undoubtedly a strategic country for Royal Caribbean: the cities of art, sailing routes and the beaches of southern Italy are all a strong call for cruise passengers who want to spend a holiday exploring the local cultural heritage without giving up on fun and relaxation. "
In all, 14 cruise ships will visit Italy, including Liberty of the Seas, which will be the largest of Royal Caribbean's ships cruising the Mediterranean. The number includes some of sister company Celebrity Cruise ships as well. 
In Italy, there's also reason to be excited for 2014 because Oasis of the Seas will sail Italian waters for the first time ever, as part of a short European season.