In:
Royal Caribbean Italy general director Gianni Rotondo says that Naples, Italy plays a strategic role in Royal Caribbean's 2013 cruise plans with 84 ports of call, which will bring more than 250,000 cruise passengers through the city.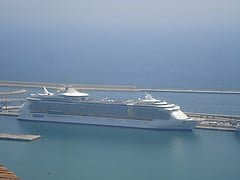 Liberty of the Seas will be one of four Royal Caribbean ships to call on Naples this year.  In 2014, Naples will be a port of call when Oasis of the Seas arrives for a short European cruise season as well. All of this is "a great opportunity for the city in terms of economic return and tourism development."
The company has bet their cruise strategy on Naples, in the belief that "the whole South of Italy", said Rotondo, "has great potential and we hope to increase more and more our presence in the area thanks to the significant synergies with the local authorities" .
Through August 30 guests aboard Liberty of the Seas can take a seven-day cruise with stops in Barcelona (Spain), Toulon (France), Villefranche (France), La Spezia, Civitavecchia and return to Naples.