Royal Caribbean considers returning to Dubai
In:
A senior executive at Royal Caribbean indicated that the company may reverse course on a decision to remove Dubai from its cruise itineraries.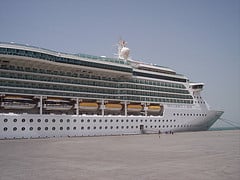 Royal Caribbean ceases cruises to the Gulf from Dubai this year, which also included stops in Abu Dhabi, Muscat and Fujairah.
"Unfortunately the season we had last year wasn't as successful as we'd have liked it to be from a revenue perspective, for various reasons – economics, a bit more competition in the marketplace that brought the rates down," Helen Beck, regional director, EMEA, told Arabian Business.
Beck was hopeful that Royal Caribbean would return to the Gulf in 2014.
"We were all very disappointed, but we haven't given up the fight," she added. "There's a lot of internal lobbying... to have the decision reviewed, maybe not for this coming winter season, but for future seasons."