Royal Caribbean institutes automatic gratuity to its cruises for all passengers
In:
Royal Caribbean notified its passengers via email today that as of March 1, 2013, all passengers would be charged an automatic daily gratuity for the crew members in the dining room and housekeeping that serve are traditionally tipped.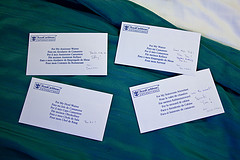 Royal Caribbean will add an automatic daily gratuity of $12.00 USD ($14.25 USD for Suite guests) to the onboard account of each guest to be shared by Dining Services Staff, Stateroom Attendants and Other Housekeeping Services Personnel. This new gratuity replaces the previously optional gratuity guidelines.
Passengers who had previously prepaid their gratuities for their upcoming cruise will not be affected by the change.
This change to force all passengers to automatically pay for gratuities can be viewed from two major viewpoints.  First, proponents of the automatic gratuities will point to the fact there have been passengers in the past who do not tip at all and thus, this will guarantee the hard working Royal Caribbean crew members a fair wage.  On the other hand, critics complain that automatic gratuities will lead to sub-par service if crew members are aware they are getting a tip already.
Royal Caribbean's change mirrors what competitors Carnival , Princess, Cunard, Holland America and Norwegian have already instituted.  
All of the competitor cruise lines do allow passengers to go to the guest relations desk onboard the ship and ask to change the automatic gratuity charges if they feel service is not up to the expected levels.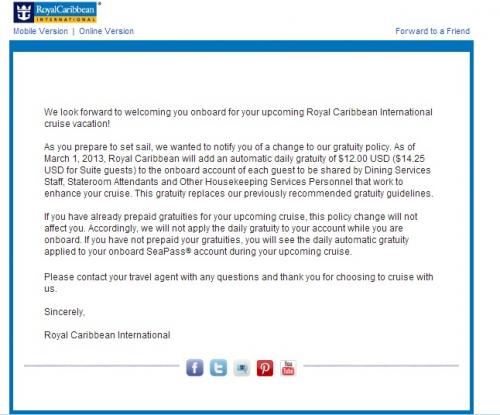 What do you think of the new automatic gratuities on Royal Caribbean cruises? Share your thoughts in the comments below.
Want a Quote For Your Cruise?