In:
At the Seatrade Hong Kong Cruise Forum, experts predict that by the year 2020, 7 million passengers will be cruising in Asia compared to 1.7 million in 2011.  This goal will mean one of out five cruisers will be from Asia if the predictions hold true.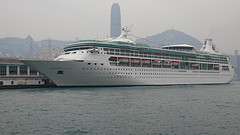 Royal Caribbean regional vice president and chairman of the Asia Cruise Association, Zinan Liu, said that Royal Caribbean has the most tonnage dedicated to Asia currently. 
According to Liu, Royal Caribbean has 276,000 gross tons followed by Star Cruises at 259,749 tons and Costa Cruises at 160,785 tons.
Royal Caribbean vice president for commercial development, John Tercek, says one challenge for the cruise line succeeding in Asia is tailoring the cruise line offerings to the Asian market.
"We are in a bit of an experimental stage," Tercek said.  "The potential is fantastic, but it's a question of what do the local clients want to do, and can we accommodate it?"   
One such difference is Asians prefer shorter cruises, as opposed to European and North American cruisers.  Asians typically like cruises of 5-nights or less while Americans and Europeans prefer 12-14 night cruises.  Another example is cruises out of China skip sun-bathing ports because Chinese guests tend not to enjoy sunbathing in harsh sunlight.
Perhaps the biggest challenge currently is the lack of ports in Asia that can handle the large cruise ships that Royal Caribbean has in its fleet. Of the 80 potential ports in Asia that were outlined by Liu, most lack the capacity to handle large ships such as Voyager of the Seas, which recently arrived in Asia.
Tercek believes the arrival of ships like Voyager of the Seas will help increase port capacity, "Wherever we take that ship, others follow because we cause the infrastructure to be built."