Royal Caribbean Mediterranean cruise prices will rise by 10% in 2013
In:
Royal Caribbean cruise prices in the Mediterranean will rise by 10% for the summer 2013 cruise season, which is a move to return price levels back to being consistent with what they were in the past.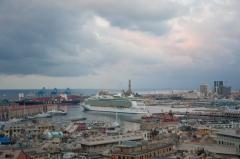 The effects of the Costa Concordia disaster forced Royal Caribbean to more aggressively price their cruises to meet the lower demand that was created.  But Royal Caribbean feels Europeans are returning to cruising and thus, the company wants to adjust their prices and schedule accordingly.
Royal Caribbean general manager Gianni Rotondo commented on the change, "At Genoa we have on a ship 3,800 passengers.  After three years in Italy, we can increment rates by 10% because of the fact that the customer that we have acquired must be compelled to book in advance, which removes the risk of reducing prices 45 days prior to departure."
In addition, Rotondo confirmed that five Italian ports for the upcoming summer season, adding Bari and Naples, "In Naples we can put Liberty of the Seas, the largest cruise ship operating in the Mediterranean, with excellent characteristics of onboard services."
Royal Caribbean has seen a gain in market share in the Mediterranean by 8-10% and further increases could be on the way.  Rotondo believes the final recovery of the cruise market could occur in mid-January, with the restoration of the usual advance booking for the summer holidays in the winter months.  This was the norm before the Concordia incident.
Looking at 2012 compared to 2010, Rotondo says combining 2012 and 2011, Royal Caribbean moved three times more passengers than in 2010 but at a decrease of 10% per fare on average.