In:
We're hearing that as of November 1, 2012, Royal Caribbean is allowing passengers to bring two bottles of wine per cabin onboard their cruise.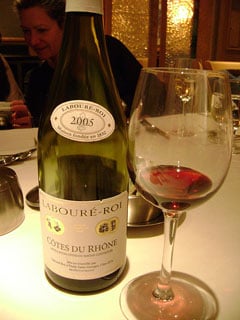 Passengers can bring the wine with them as they board the ship at embarkation.  The wine must be consumed in your cabin or balcony.  If you choose to drink the wine elsewhere on the ship, such as at a restaurant or at a bar, a $25 corkage fee will be applied.  
If you receive wine as a gift via Royal Caribbean, guests may consume the wine in their stateroom or at any of the public areas onboard the ship without incurring a corkage fee.
Guests are not allowed to bring any other alcoholic or non-alcoholic beverages onboard for consumption or any other use. Alcoholic beverages that are purchased in ports-of-call or from Shops On Board will be stored by the ship and delivered to your stateroom on the last day of the sailing.
No open liquor bottles will be permitted to be brought into the dining areas or public areas.