In:
Royal Caribbean has seen its growth in the Italian cruise market triple in the last two years.  Despite stiff competition by Costa and MSC, Royal Caribbean has managed to experience significant growth.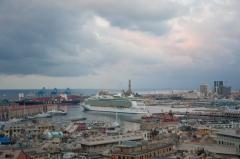 Royal Caribbean General Manager for Italy, Gianni Rotondo, commented on the news, "In two years we have invested a lot in Italy and we have gone from 23 thousand to 70 thousand Italians on board."
Rotondo also mentioned that Italy is the number one country in Europe for transit and Royal Caribbean accounts for 7-8% of the domestic market accounts.
In terms of the effect the Costa Concordia disaster has had, Rotondo noted that "we have lost something on the average income per person is an average decline of about 10 percent."   While the average cruise fare has fallen, Royal Caribbean has managed to see "a simultaneous increase of 300 percent of the customers".