Royal Caribbean shows interest in developing Ukraine cruise business
In:
The Ukrainian government will begin promoting the development of a cruise industry in its country, specifically eyeing the ports of Odessa, Sevastopol and Yalta as prime candidates.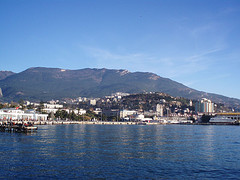 Royal Caribbean vice president Craig Maylen met with Ukranian Minister of Infrastructure Borys Kolesnikov during a visit to the United States.  Maylen talked about the future of the ports, "Odessa port has great prospects for receiving cruise ships, as it is in the heart of the city, and it is very convenient for tourists"
The meeting took place in Royal Caribbean's headquarters in Miami, Florida where the two sides discussed a number of issues regarding the  potential of Ukrainian ports in the cruise industry. 
According to Maylen the port has quite a good infrastructure. With certain infrastructure improvements in Yalta and Sevastopol, the ports could be upgraded to handle considerably larger cruise ships than they serve now.