In:
Royal Caribbean's Splendour of the Seas will host the fifth annual Brazil Fashion Cruise in 2013.  The event will take place April 7th through the 11th and will tour the Brazilian coast.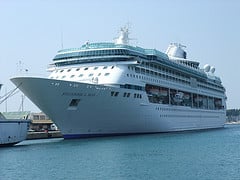 The Brazil Fashion Cruise ship will bring together the top names in Brazilian fashion, businessmen, journalists and students of fashion.
"The event grows each year and, for the anniversary edition of five years plus the attractions on board, prepare actions and parade ground," says Carla Wolff, the Dreamakers Travel & Consulting, creator of the project in partnership with Alba Ferrari Facex partner of Foreign Trade.
The event features special programa for students, such as workshops with designers who will be in the line-up.