Antigua excited for better 2013 cruise season
In:
The island of Antigua is promising a better cruise season in 2013 thanks in part to Royal Caribbean bringing back ships during summer.  Jewel of the Seas will visit three times a month during the summer period from May to October 2013 and will remain for the 2013-2014 winter season.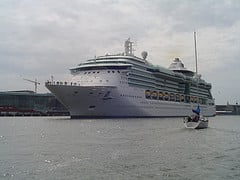 Jewel of the Seas is planning to make 29 stops at the island, which translates to 72,500 passengers in 2013.  Jewel of the Seas replaces Serenade of the Seas.
Chief Executive Officer of Antigua and Barbuda Tourism Authority Colin James mentioned Royal Caribbean's return was thanks in part due to ongoing "lobbying efforts" by the island. A delegation involving the Antiguan Minister of Tourism, Civil Aviation and Culture met with Royal Caribbean in recent weeks.
"I think this is excellent news for the destination because in the summer months things really dry up and it makes it very difficult for the key tourism partners on island to sustain their business during the summer month. It is good news for our destination and we are really pleased that the lobbying effort has borne fruit."