In:
Royal Caribbean announced it will send just nine ships to Europe in 2013, down from 12 ships this year.  Weak bookings in Europe have contributed to Royal Caribbean's decision to reduce its presence there.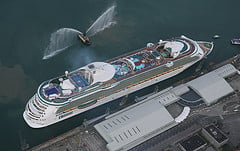 The nine ships will offer 276 cruises over 58 itineraries in 2013.  
A third of the ships going to Europe in 2013 will sail out of the United Kingdom, including Independence of the Seas, Adventure of the Seas and Brilliance of the Seas.  The ships will offer cruises to the Baltics, Mediterranean and Canary Islands.  A report from the Passenger Shipping Association shows that more than 40% of British passengers choose to being their cruise from a UK port.
In addition, Legend of the Seas will offer seven-night western Mediterranean itineraries out of Genoa, Italy and visiting Provence (Marseilles), France; and Barcelona, Palma de Mallorca, and Valencia, Spain.
Vision of the Seas will alternate seven-night Norwegian cruise to the North Sea and offer cruises to visit the Norwegian Fjords, Russia and other northern European destinations.
Navigator of the Seas will offer seven-night eastern Mediterranean and Greek isle cruises.  Serenade of the Seas will offer 12-night Mediterranean and Greek isle cruises.  Splendour of the Seas will serve the Adriatic sea and Greek isles.  And finally, Liberty of the Seas will offer a selection of five- and seven-night Western Mediterranean cruises from Barcelona.