Royal Caribbean planning to send Allure of the Seas to St. Kitts
In:
Royal Caribbean's mega ship the Allure of the Seas is going to visit the island of St. Kitts.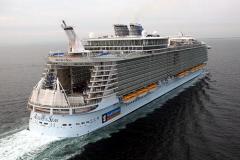 Sunday will offer passengers an unique 9-night itinerary that will deviate from the usual pattern Allure of the Seas visits and will include docking in Basseterre, St. Kitts on December 30.
Royal Caribbean CEO Adam Goldstein described the visit to St. Kitts in a recent blog post as a variation on the typical itineraries that Royal Caribbean will offer from time to time.  Royal Caribbean spokesman Harrison Liu calls the visit "uniquely special", as there are no other calls to St. Kitts planned for Allure of its sister ship Oasis of the Seas.
In celebration, the island is planning a festive welcome for Allure of the Seas.  The celebration will include St. Kitts and Nevis' prime minister, tourism minister and other top officials will be greeting the ship.