In:
During Royal Caribbean's third quarter results announcement, the company reported a new record for its Alaska cruise business.  While overall results for Royal Caribbean were generally good, the news out of Alaska was amazing.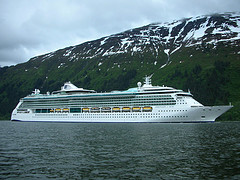 Royal Caribbean didn't have to discount its cruises to fill its ships this year, which meant that Royal Caribbean net revenue yield (profitability per passenger after costs) was up quite a bit.
Royal Caribbean's Chief Financial Office Brian Rice described the results during the quarterly report, "Our yields in Alaska this year were the highest in our history."
While Royal Caribbean did not divulge exact figures,  it did say that overall its revenues rose to $2.3 billion for the quarter, which is up from $2 billion from the same quarter last year.
Royal Caribbean expects this years strong showing in Alaska to continue in 2012 as well, although it's still a little too far out to know for sure.