Royal Caribbean enters agreement with ports of Yalta and Sevastopol
In:
The Ministry of Infrastructure in the Ukraine agreed on Friday with Royal Caribbean to enter into a joint modernization of the passenger port of Yalta and Sevastopol, according to the deputy Minister of Infrastructure, Borys Kolesnikov.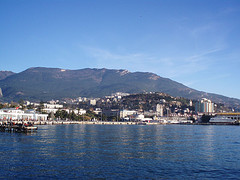 "Tuesday will start a joint working group. We plan to implement a project to lengthen the quay walls in order to enter the ports to vessels travel the highest class of the largest size" - Kolesnikov said in Yalta, where the deputy prime minister came to participate in the Black Sea Economic Forum.
According to him, held talks on Friday were the first to the Ministry of Infrastructure of Ukraine shall, within 30 days to develop a "detailed roadmap" for further cooperation with Royal Caribbean.
"The interest of Ukraine in the fact that tourists had a lot to all of the Yalta tourist facilities - restaurants, cafes and shops - was filled with" - he said.