In:
The 2011-2012 cruise season will kick off in St. Kitts with Royal Caribbean's Serenade of the Seas arriving on October 8th.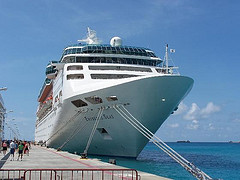 Serenade of the Seas, a cruise ship with a capacity of 2,450 guests, will dock at Port Zante and make two calls in October with a total of 16 stops for the season.  Serenade of the Seas will bring a total of 40,640 passengers during the 2011-2012 season.
In addition, Port Zante will welcome Royal Caribbean's Explorer of the Seas six times as well as Navigator of the Seas and her 8 calls.