Independence of the Seas returns to Alicante
In:
Royal Caribbean's Independence of the Seas, the largest cruise ship sailing the Mediterranean, has made ​​its third stop in the port of Alicante, Spain. More than 4,000 passengers have had an opportunity to make numerous trips to Alicante and its province, as reported in a statement by the Port of Alicante.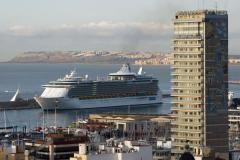 Thus, the ship, which comes from Palma de Mallorca, sails on Monday for Lisbon, Portugal before sailing north back to their summer base in Southampton, UK.
Independence of the Seas has a capacity for 4,500 passengers and 1,500 crew members and is 339 feet long and 38 wide, making it one of the largest cruise ships in the world, the highest among those who ply the waters of the Mediterranean, and will dock in Alicante on August 29. 
On September 22, representatives from seven North American carriers will also come to Alicante, where they remain until the 24th for a tour that includes visits to the port facilities and various destinations in the city and the province "suitable" for travelers cruise.