More Romanians cruising thanks to Royal Caribbean
In:
About 9,000 Romanians will travel this year on cruise ships worldwide, up significantly from a year earlier, when they were about 8,000 tourists. This translates to an estimated spending spree on cruises of over 8 million euros, versus 6.5 million last year, "said Nicholas Demetriade, World Travel travel agency owner.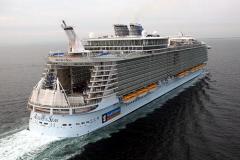 According to Nicholas Demetriade, World Travel travel agency owner, the increase is due to large cruise ships that Royal Caribeann introduced to destinations in Europe, and the launch of he world's largest ship, Oasis of the Seas and Allure of the Seas, with a capacity of 5400 passengers and 3,000 crew members.
On two vessels, launched two years ago, last year during ​​more than 100 Romanian holidays, Romains spent an average of 1000-1200 euros. Those in charge of cruise tourism say this has always been on an upward trend, not only in Romania but throughout the world. The proof is the large number of ships launched every year, becoming larger and with more features. John Base, croaziere.net company owner, said the most expensive holiday sold last year was a combination of three cruises to the torque, which lasted two months and cost 60,000 euros.