Cruising 101: Food
In:
While Royal Caribbean's deployment of nearly half their fleet to Europe has been the big story in the company as of late, the other big trend that is sweeping across all of Royal Caribbean's ships (and frankly other cruise lines too) is the food options onboard.
While on your cruise ship, there will ample food provided throughout the day.  In short, there's hardly ever a time where you can't find food that is complimentry.  Complimentry food comes from a variety of sources and options.
Complimentry Restaurants
Main Dining Room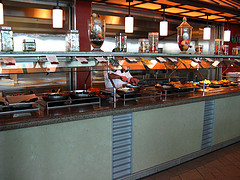 Every evening dinner is served in the main dining room at assigned seating tables.  You may end up sitting with passengers who you don't know, but the servers work to make your dining experience here as personal as possible.  The main dining room offers appetizers, entrees and desserts to choose from each night and you may order as much (or as little) as you like and it's nearly all complimentry.
The exception for food that is not complimentry in the main dining room are steak filets, that often come at an extra cost.
You can also dine in the main dining room for breakfast every morning and for lunch when available.  For breakfast, it's sit down service although here seating is first come-first served and you will not have the same waiters as dinner.  Lunch offers similar set up.
There is often a dress code to the Main Dining Room, although it's mostly an issue for dinner and less so for other meals.
Quick Service Restaurants
Throughout your cruise ship you will find other restaurants you may grab something to eat for no additional cost.  The exact restaurants vary from ship to ship but you will find a good variety of food to choose from.  Examples of food here can include pizza, sandwiches, pastries, ice cream and more.  
There's usually some seating available at these restaurants although not a lot.  These types of restaurants are usually for the "grab and go" passenger, who may be wanting something quickly to eat on their way to somewhere else.
Windjammer
The defacto buffet on every Royal Caribbean ship is the Windjammer Cafe, which is an all you-can-eat buffet that serves meals for breakfast, lunch and dinner.  There's lots of seating and it's a great option  when you want a casual meal.  The Windjammer is also usually convenient to the pools on the ship.
Don't let the buffet setup fool you, the Windjammer offers good quality food and while you could argue the food quality isn't as high as you will find in the main dining room, it's still a restaurant many Royal Caribbean fans love to frequent.
As mentioned earlier, the Windjammer is open for dinner and can be a good alternative for those who do not want to get dressed up for dinner in the main dining room or simply want to have more pool time or some other activity.
Room Service
Yes, room service is complimentry on your Royal Caribbean cruise.  There is a menu in your stateroom to choose from and it's available 24 hours per day.
There is a catch to room service, while the food is complimentry, it's traditional to tip the person that delivers the food to your room.  In addition, Royal Caribbean changed their room service policy back in 2009, and there is now a $3.95 surcharge for any food ordered between the hours of midnight and 5 a.m.
Speciality Restaurants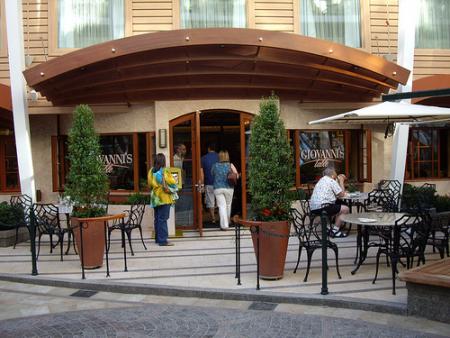 The biggest trend among all Royal Caribbean ships is the addition of specialty restaurants to their ships that cost a nominal fee.  The prices vary from ship to ship and restaurant to restaurant.  These specialty restaurants tend to have a food theme (Italian, French, Steakhouse, etc) and are table service restaurants.
Most specialty restaurants have a dress code, and in some cases their dress code is more formal than the main dining room.  
Specialty restaurants recommend making a reservation in advance to ensure there is a seating available.  It's not to say you can't walk up ona  given night and dine there, but there may be a wait or no availability.  You can book speciality restaurants in advance of your cruise on the Royal Caribbean website up to 60 days before your cruise but no sooner than 4 days before your sail date.
Pricing can also vary from restaurant to restaurant.  Some restaurants have a cost per person and then nearly everything on the menu is included in the cost.  Other resaurants offer their menu items with a la carte pricing.  Others include a per-person fee and a la carte pricing.
The future
Royal Caribbean has been working on increasing the amount of specialty restaurants on their ships as they've proven to be great money makers.  Some guests are bothered by the amount of speciality restaurants onboard because it's come at the expense of the complimentry offerings as well as the principle of paying for food on a cruise ship.
No one knows what the future will entail exactly, but all signs point to more speciality restaurants than we've seen before on Royal Caribbean ships.  Even older ships are often receiving new restaurants when they are brought into dry dock for upgrades.
The bottom line is there's plenty of places on your Royal Caribbean ship to eat at.  Both complimentry and specialty restaurants offer a wide variety of food to choose from and there's almost always something to get regardless of time of day.