Greece still has a lot of work before it can be ready for Royal Caribbean
In:
Greece has been meeting with Royal Caribbean as part of the Posidonia Sea Tourism Forum that took place this week but represenatives from the country recongize the fact more work is needed to be done before it can be ready for likes of Royal Caribbean.  The aim of the visit of top executives of Royal Caribbeanto Greecce is to explore possibilities for further development of the company in Greek cruise market.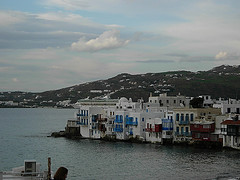 In order to promote cruise tourism throughout Greece, the Deputy Minister of Culture and Tourism George Nikitiadis accompanied Royal Caribbean Vice President John Tercek on visits to the ports of Thessalonica, Kos and Rhodes.
Rhodes has all conditions for emerging as one of the major cruise destinations, however, "still wants a lot of work". The process of fast-tracking is the conclusion extracted from what was said yesterday evening, during the press conference given at the Municipality of Rhodes.  Tercek traveled with Nikitiadis to tourist destinations across the country and visited the port facilities there as well as has meetings with local actors. 
During their visit, then, in Rhodes and Kos, they had the opportunity to see the situation of port facilities and areas of potential cruise passenger visits and discussed issues critical to the development of ports in a way that creates perfect conditions for the reception of cruise ships and increased traffic.
Some positive impressions seemed to be made on the Royal Caribbean executives, who said yesterday, from Rhodes that "it is a beautiful island, is a rapidly growing island is a popular tourist island"   Asked also Mr. Tercek if Rhodes can easily be home-port, he replied that: "Not easy but possible", while Mr Nikitiadis added that "wants a lot of work."
Nikitiadis' deputy also commented on the possibilities, "I think the cruise market is a great challenge. The government is committed to proceed with very important measures and believe that even the prospect of creating the municipalities in the region, with any carrier, new facilities. This will be subject to procedures of fast-track. Such a process will reach all sides of the market, which will ensure that we have more people, more and more ships, more and more visitors all year long. "
He added, "I must point out that one of the major issues of concern throughout the whole country... is to ensure greater security, which must serve the visitor and not to harass them. This happens in most our ports. It matters that we discuss with them the cruise line, because they know much better since they go around the world and they know what they receive complaints aboutd. So, this cooperation is the relationship developed and we believe that, in future, strengthens more and more, is for the good of the island, for the good of the marine tourism is good for the cruise and hope in the future to go too much better. "