Korean port of Incheon to become a cruise hub
In:
Royal Caribbean's Legend of the Seas is going to call the port of Incheon, South Korea not just a port of call but their home port very soon.  Incheon port authority officials are hoping to welcome even more cruise ships by expanding facilities and adding more immigration booths.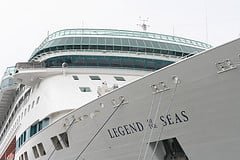 Thus far 15 cruise ships have made a call to Incheon this year and with more passengers from Europe and North America traveling to South Korea for tours, Incheon officials hope to develop more local tours to encourage tourists to stay in the area.
A ship like Legend of the Seas generates a lot of revenue for the city, as each time she pulls into port, approximately W1 billion (US$1=W1,114) in financial effect hits the city.