Royal Caribbean taps Motorola for enterprise mobile computers to assist employees
In:
The Motorola Solutions business of Motorola, Inc. (NYSE: MOT) today announced that it has deployed a mobility solution to help Royal Caribbean International enhance the guest experience onboard Oasis of the Seas – the largest and most revolutionary cruise ship in the world. In an effort to provide travelers with the most memorable experience, Royal Caribbean has equipped its employees with Motorola enterprise mobile computers to empower them with the information they need to ensure customer needs are taken care of on-the-spot anywhere on the ship.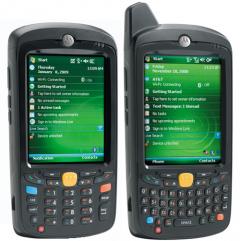 "Oasis of the Seas is a revolutionary cruise ship that transforms the way Royal Caribbean interacts with its guests," said Bill Martin, VP and CIO, Royal Caribbean Cruises Ltd. "By aligning with Motorola, we are now able to address guest needs in real-time while increasing the productivity of our staff – ultimately raising the standard for guest experiences and satisfaction."
As mobility becomes increasingly more important for hospitality organizations to maintain competitive advantage, Royal Caribbean turned to Motorola to provide a reliable solution to help drive revenue, improve service and enhance the customer experience. Mobile applications running on Motorola MC55 and MC70 enterprise mobile computers carried by the Oasis of the Seas staff include, mobile point of sale (MPOS), mobile mustering, work order management, show ticketing and asset management.  
Throughout the guest entertainment area of Oasis of the Seas, staff are equipped with MC70 mobile computers and snap-on mobile payment modules to more quickly respond to and complete guests' credit and debit solutions.  This MPOS solution reduces the amount of time guests wait in line for shows, as well as speeds order-taking poolside to not only improve the guest experience but increase beverage sales.
In addition, the MC70 provides en electronic, mobile solution for mustering to increase accuracy and compliance with ship regulations. With the MC70, guest sea pass cards are scanned to get an accurate count of guests who have been briefed on emergency procedures once on board.  The new solution has helped reduce the amount of time to complete a muster – in turn increasing employee productivity and allowing guests to spend more time relaxing or participating in onboard activities.
"Motorola is committed to helping hospitality organizations, like Royal Caribbean International, provide superior customer service, "said Tom Moore, director of hospitality solutions, Motorola Solutions.  "Our extensive mobile computing portfolio enables us to equip the right worker with the right device – in turn providing our hospitality customers with the ability to better serve their customers anywhere, anytime."
Motorola's MC55 provides business-critical information onboard Oasis of the Seas- enabling streamlined processes for work order and asset management for engineering, housekeeping and the ship's dining room. From plumbing and air-conditioning to televisions and slot machines, all systems and appliances must be in working order to guarantee guest satisfaction. Equipped with an MC55 with integrated voice and data capabilities, Royal Caribbean maintenance staff can receive tasks in real-time, providing managers with visibility into progress of work orders and ensuring any issues are addressed immediately.  The MC55s are also used to manage assets within its dining room, including silverware and tableware.  This solution helps reduce inventory management time – allowing staff to spend more time focused on the guest experience.  
Royal Caribbean is planning to expand its use of mobile computers across its fleet of ships throughout 2012.