Interest in cruising in China on the rise
In:
Cruising in China is expected to grow this year, with a 5% increase in domestic cruises, and the future for China looks bright.  The Shanghai Port International Cruise Terminal in downtown Hongkou District opened in 2008 and already construction of another port, the Shanghai Wusongkou Terminal, is scheduled to be completed by 2012.  Once the second terminal is complete, Shanghai will be able to handle eight cruise ships per day, with home-ported ships stopping there 66 times in this year alone, more than double the amount from last year.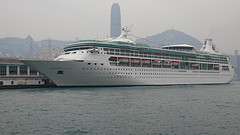 At the All Asia Cruise Convention, Royal Caribbean senior vice-president  Michael Bayley sounded optimistic about the future of cruises in China, "China has a potential of around 40 million cruise guests annually if the market penetration reaches the level of the U.S. and Europe".
Royal Caribbean already has a vested interest in the growth of cruising in China, as Royal Caribbean signed a memorandum of understanding last year with Shanghai International Port Group to form a strategic partnership in cruise operation areas, such as market promotion, port, staff training and management-experience exchange.
"Such strategic partnerships are an important and valuable element of our activity to increase penetration in China," Bayley said.