In:
Royal Caribbean Chairman and CEO Richard Fain posted an update on the construction progress of Allure of the Seas, sister ship to Oasis of the Seas.  Allure is scheduled for delivery on October 28th and it sounds like Royal Caribbean is still on progress to meet that date.  After a visit to the shipyards in Finland, Fain seemed optimistic about the soon to be released vessel.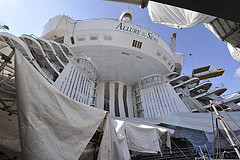 She is scheduled for delivery on October 28th and the state of her construction was remarkable. I don't think that I have ever seen a ship at this stage of construction so ready. Despite regular status reports and photographs from the newbuilding team, I was astounded by how far along she was.
Of real interest was something Fain mentioned about "remarks".  Simply put, remarks are little issues that Royal Caribbean needs to address that are caught by the inspection team and can vary in scope from a minor scratch to something major like a broken critical systenm.  Fain mentioned when Oasis of the Seas left the shipyards, she had 6,000 remarks to resolve but surprisingly, Fain and his team think there may be zero remarks to worry about.
That would be virtually unthinkable for a normal ship, but for ALLURE it is an amazing target. The beauty of such a target is not that the remarks are an issue (virtually all the remarks would never be noticed by our guests) but that it frees both teams from having to deal with them and allows them to focus on more important things like making the perfect Mojito.