In:
One of the most debated topics when it comes to cruising is gratuities, or tips.  Tips are found throughout your cruise vacation and differ in the amount to give as well as the frequency to give.  Gratuity is general is a very subjective matter but it's something you need to know about before you cruise so you can better plan your budget for your trip.
Obligatory Gratuity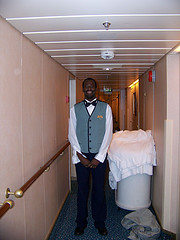 Of all the tips you may or may not hand out, there are a few people on the ship that everyone should tip at least something to.  These are...
Stateroom attendant
Waiter
Assistant Waiter
Head Waiter
These four people are the crew members you will have the most contact with during your cruise.  While there may be some discussion of how much to tip them, there's little doubt that they all should be tipped at the very least. Because there's so much confusion as to how much to tip, Royal Caribbean provides a list of suggested gratuity amounts.
Suite attendant: $7.25 USD a day per guest
Stateroom attendant: $5.00 USD a day per guest
Dining Room Waiter: $3.75 USD a day per guest
Assistant Waiter: $2.15 USD a day per guest
Headwaiter: $0.75 USD a day per guest
These suggested rates are just that...suggestions.  Basically, if you feel the service you received was within your expectations, these amounts are fitting.  If you feel the service was better than you expected, you could always tip more.  Every person has their own ideas of how much tip is "right", so it's up to you but at least these figures will give you a good starting point.
Other Gratuities
You will quickly find gratuity opportunities elsewhere on your cruise.  If you order a drink from a bar or wait staff, a 15% gratuity will automatically be added to your bar bill or wine check when you are served.  There is also an option for tipping more, but generally the automatically included tip will suffice.
Even before you board your cruise, there are porters at the cruise terminal to help you check in your luggage.  These folks tend to be very helpful and it's customary to tip them $1-$2 per bag. It's not required and if you opt not to tip them, your bags will still make it on the ship, however, many opt to tip these people for the prompt service they provide
If you take an excursion, the decision to tip can be less obvious.  Some excursions do include gratuity in the cost of the excursion, so be sure to check the description of any excursion you take to see if that is the case.  It's hard to give a general answer for if it's right to tip on any excursion as it's less clear.  Personally, I recommend tipping if someone gives you or your family service above and beyond what's reasonable.  A good example may be if you are doing a parasailing excursion and the staff gives you or someone in your party a few extra minutes, or perhaps lets your daughter "drive" the boat.  Special things like this are good reasons to tip the staff a few extra dollars.
How to tip
The gratuities for the wait staff and your stateroom attendant can be prepaid either before you book your cruise, added to your SeaPass account during your cruise or paid in cash at the end of your cruise.  Regardless of how you pay for them, labeled envelopes will be delivered to your stateroom during your cruise to allow for an easy exchange of gratuities.
Tipping others is less formal, as you will either be giving them cash or amending the bill you receive after getting a drink.  When you're off the ship, tipping by cash is the preferred method and it's best to bring a lot of $1 and $5 bills with you to have on hand for tipping.  Don't worry about carrying local currency, nearly every destination you visit will be people more than willing to accept United States currency.
When to Tip
In addition to how much to tip, there's a great deal of discussion of when to tip.  Everyone has their own preferences.  Some people like to tip a little at the beginning of the cruise to ensure great service for the rest of the cruise.  Others prefer to tip at the conclusion of the cruise to reward good service.  There isn't a right or wrong way to tip, it's a completely subjective decision.  For your waiters and stateroom attendants, it's most common to tip them on the last night of the cruise.