Interview with DJ Big Phyll
In:
Today we have the honor of talking to DJ Big Phyll, a Celebrity DJ for Royal Caribbean, who has recently been DJ'ing on Oasis of the Seas.  Big Phyll talks to us about his thoughts on where to have a great time on Oasis of the Seas, as well as sharing his favorite aspects of Royal Caribbean's newest ship.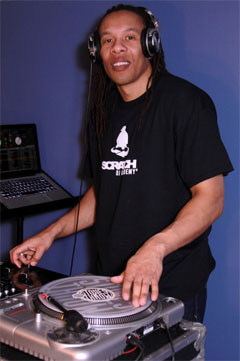 Tell us about what your role is and has been on a Royal Caribbean cruise ship?
I am a Celebrity DJ for Royal Caribbean & Scratch Events.  I'm the headlining DJ for the featured parties aboard the cruises, as well as guest DJ appearances in the nightclubs.  I'll also play some sets on the Boardwalk, Promenade, & other areas.  I also teach DJ courses to teenagers on the cruises.
Of the places you DJ onboard the ship, what is the busiest/most popular time for dancers?
The most popular time is between midnight-3am.  There are so many activities, shows, great restaurants, & casinos on the ships, guests are well occupied until late night.  But they seem to enjoy finishing their nights at one of the featured parties, or the nightclub, having cocktails with other guests & dancing.  The nightclub stays open past 4am, and most nights it's crowded until the music ends. 
You DJ'ed on Oasis of the Seas recently. Talk to us about the dance and music venues you either worked at or saw.  Which ones stood out to you as great places to have some fun dancing or enjoying music?
The Oasis is an amazing ship, and it's wonderful that music is a major entertainment piece onboard.  There are great venues aboard for dancing, including Blaze Nightclub, The Royal Promenade during the 70's Party, Dazzles Nightclub during the 80's Flashback Party.  My favorite venue for parties is the Solarium.  Dancing under the Caribbean sky at night is an amazing feeling!  Two of the featured parties is on the Solarium deck, and there is always a great turnout.  The hot tubs & pools are open, so cruisers can choose to take a dip, dance, and relax.  
What story sticks out in your mind as the most memorable from being a DJ on a cruise?
There isn't any single event that sticks out in my mind because being on the Oasis for a month is a story in itself!  The most memorable aspects for me were the interactions with such a diverse group of people.  The staff was amazing!  They are genuinely nice people who will do whatever it takes to make their guests happy.  Interacting with the guests was wonderful.  I dined at the specialty restaurants nightly, usually alone, but I always seemed to have a dining companion.  Whether it was a sushi chef at Izumi, or a couple at the next table at Giovanni's, conversations were easy to strike up & enjoy.  When I would DJ for the guests, they danced & had fun, and were very appreciative of Royal Caribbean bringing me aboard to DJ for them.  They would thank me verbally, & with drinks sent to my booth!
Any suggestions for cruisers looking to have a great time onboard their ship if they enjoy music and dancing?
Be ready to have fun!  The dance parties are high-energy, and you'll find yourself dancing hours on end without realizing it...so wear comfortable shoes!
Let's get to know a little about you....
Favorite restaurant on Oasis of the Seas: 3-way tie between Giovanni's Table, Chops Grille, & Izumi.  I also love Vintages, which I enjoyed tapas & wine flights daily.
Preferred drinks on a cruise ship: Tiger's Blood - equal parts Courvoisier & port wine (introduced to me by a bartender at Blaze Nightclub); Italian wines;  Louis XIII de Remy Martin.  
Favorite port of call to visit:  Nassau, Bahamas.
Favorite track of the moment that you love to play when you're working:  "Shots" by LMFAO.
Be sure to check out DJ Big Phyll's podcast "Mixes for Music Lovers" and be sure to add him as a friend on Facebook.