In:
If you've been on a Royal Caribbean cruise in the fairly recent past, more than likely you've eaten at the Windjammer Café, the ever popular and somewhat ubiquitous buffet that fans of Royal Caribbean look forward to on each of their cruises.  The Windjammer is a buffet restaurant that is included in the price of your cruise.  It offers a wide variety of food from fresh fruit and salad to sandwiches, burgers, dessert and much more.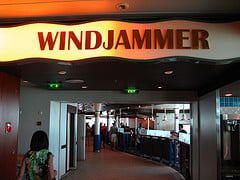 The exact menu of the Windjammer varies from ship to ship as well as what's in season and fresh.  Don't be confused, the Windjammer isn't your typical stale buffet with old food. Rather, it's a great place for meals or snacks at many times of the day. 
Many guests get their first taste of the Windjammer on embarkation day when they first board the ship.  The Windjammer is typically open for lunch for those boarding the ship and a great opportunity to get your vacation started off right.  Throughout the cruise, you will find opportunities to sample different food depending on the meal.  
Some Windjammers, like those on Navigator of the Seas or Mariner of the Seas, feature a Jade section to the Windjammer, which serve Asian foods such as soup, rice and even sushi.
Windjammer Cafe Hours: 
Continental Breakfast: 6:30 a.m.-7:30 a.m.
Full-Buffet Breakfast: 7:30 a.m.-10:30 a.m.
Lunch: Noon-2:00 p.m.
Afternoon Tea and Snacks: 4:00 p.m.-5:00 p.m.
Dinner: 6:00 p.m.-9:00 p.m.