On TV in UK: Oasis of the Seas
In:
For our readers in the United Kingdom, check out the National Geographic Channel tonight at 9pm, err... 21:00, for a show about Oasis of the Seas called "World Record Cruise Ship".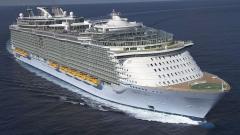 Like an entire water-going city, the Oasis of the Seas is the largest cruise ship ever built. But this colossal vessel started on a humble drawing board, when a group of international architects were given a simple brief: to design something completely new. 
Premiering on Wednesday 14 July at 9pm, World Record Cruise Ship follows the project from the early planning stages right through to the vessel's completion as the team creates the goliath of all cruise ships with the biggest measurements in the world.
At 360 metres in length and 16 passenger decks high, it can accommodate 8,500 passengers and crew members at the same time.  And to ensure that guests are afforded the most luxurious stay possible, the team had to conduct rigorous tests to ensure that every part of the ship passed the catalogue of strict environmental and safety tests needed before the maiden voyage.
Dwarfing all other cruise ships, prepare to join the crew and set sail as this self-proclaimed 'architectural marvel' takes to the water.