As part of Royal Caribbean Blog's Group Cruise on Allure of the Seas, we're holding a number of events exclusively for our blog readers because enjoying this cruise is not just about being onboard but sharing in the event together!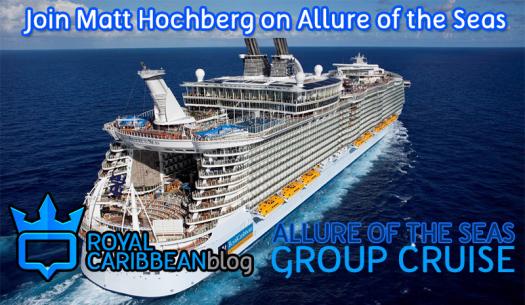 Pre-cruise meetup
Since many of us will be arriving to the cruise at least one day early, let's meet up to watch other cruise ships leave and have an opportunity to meet others!
Meet location: John U. Lloyd Beach State Park at "Jetty pavilion overflow parking."
Date: February 20, 2016
Time: 3:45pm
Bye-Bye Sailaway Party
Let's kick start our amazing 7-night cruise by waving goodbye to everyone together!  This will be a good opportunity to meet other people in our group and wave goodbye to South Florida together. 
Meet location: Deck 15, near Sand Bar
Date: February 21, 2016
Time: 4pm
Guacfest!
Matt has been raving about Sabor's Guacamole ever since he first tasted it, so let's enjoy ample servings of this green goodness together!
Meet location: Sabor Bar (Deck 6)
Date: February 22, 2016
Time: 1pm
The most civilized bar crawl ever
The word "bar crawl" conjurs up images of drunken debauchery but the truth is we just want to sample a drink or two at a number of Allure of the Seas' bars so join us for an opportunity to wet our whistle while exploring these new venues to find which ones we love the most.
Meet location: Sabor Bar (Deck 6)
Date: February 22, 2016
Time: 2:30pm
Labadoozie Appreciation Society
Whether you love these Royal Caribbean signature drinks or have never had one before, come enjoy a round of Labadoozies while in Labadee.  
Meet location: Schooner Bar (Adrenaline Beach)
Date: February 23, 2016
Time: 11am (it's 5:00 somewhere, right?)
Day at the Fair meet
Allure of the Seas' Boardwalk has a lot of things to see, do and eat so let's enjoy them all together.  A lot of the food and activites are similar to what you would find at your local fair, so let's enjoy a ride on the carousel, have ice cream and a hot dog.  Boater hat optional.
Meet location: In front of Boardwalk Donuts (Boardwalk)
Date: February 25, 2016
Time: 2pm 
Watch the Senor Frogs 100m dash
Right before any Royal Caribbean ship leaves Cozumel, there are always a handful of guests who try to squeeze every last minute out of their time at the dockside Senor Frogs. Let's gather and enjoy their sprint back to the ship!
Meet location: Deck 16 on the side facing Cozumel (near Mast Bar or Sky Bar)
Date: February 26, 2016
Time: 6:15pm 
Live podcast recording staring YOU!
It's only natural for Matt to record an episode of the Royal Caribbean Blog while onboard Allure of the Seas and we're inviting YOU to join us not just for the recording but to be a part of the podcast, LIVE!  Matt will record the episode and feature Royal Caribbean Blog readers to talk about our collective experiences onboard and review this magnificent ship for everyone at home.
Meet location: Near Park Cafe (Central Park)
Date: February 27, 2016
Time: 11am
And more!
There will be lots of impromptu meets during the course of the cruise and we will still have some other events announced in the coming months prior to our cruise.
Of course, this is our cruise so if you have a meet idea, email Matt and we may include it in our schedule!