Chops Grille lunch menu on Empress of the Seas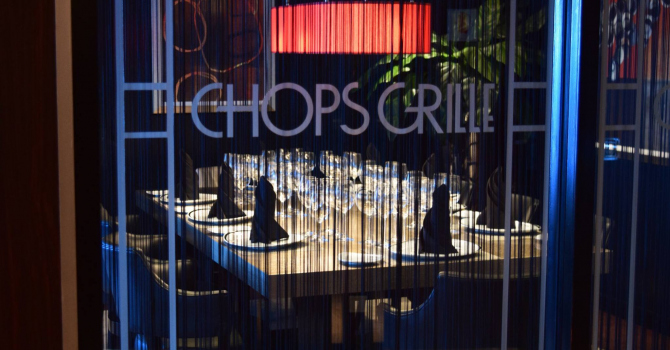 Last updated on April 20, 2017.
Menus provided by RoyalCaribbeanBlog.com are unofficial and subject to change.
Appetizers
Wild Mushroom Soup
Scented with white truffle oil, chives
Colossal Shrimp Cocktail
Horseradish cocktail sauce, lemon
Charred Beef Carpaccio
Rare charred beef, parmesan cheese, shaved asparagus, truffle mustard dressing
The Wedge
Iceberg lettuce, blue cheese crumbles, smoked bacon
Entrees
Grilled Filet Mignon 8 Oz.
Roasted Half Chicken
Truffled chicken jus
Grilled Salmon
Whole grain mustard sauce
Chops Dry Aged Steak Burger
Brioche bun, melted Gruyere, smoked bacon
NY Steak Salad
Beefsteak tomatoes, red onions, spinach, crumbled blue cheese, balsamic vinaigrette
Caesar
Romaine, Reggiano cheese, creamy Caesar dressing 
With your choice of Grilled Chicken, Filet Mignon or Shrimp
Sides
Gruyère Cheese Tater Tots
Grilled jumbo asparagus
French Fries
Mashed Potatoes
Mac & Cheese
Desserts
Key Lime Pie
Graham cracker crust, torched meringue
Warm Valrhona Chocolate Cake
Vanilla ice cream, raspberry coulis
Carrot Cake
Toasted walnuts, cream cheese buttercream, orange zest
New York Cheesecake
Fresh raspberries, creme anglaise
Ice Cream Sundae
Bananas, chococlate sauce, whipped cream, cherries
Assorted ice cream & sorbets
Coffees $8.50
The Truffle
Frangelico, Stolichnaya vodka, espresso - cold
Haute & Steamy
Absolut Vanilia vodka, Crème de Cacao Dark Coffee, Whipped cream with caramel sauce drizzle
Bavarian Coffee
Peppermint Schnapps, Kahlua, Coffee, Whipped Cream