Chef's Table menu on Jewel of the Seas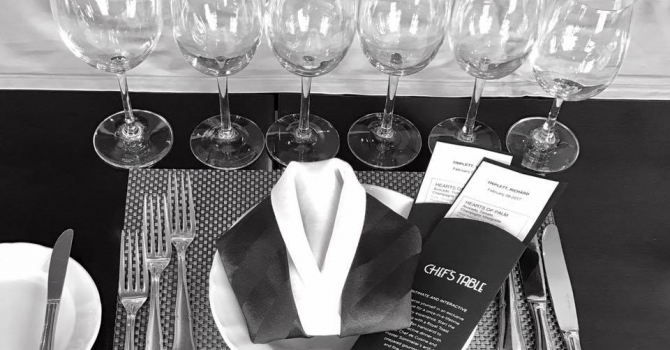 Last updated on February 9, 2017.
Menus provided by RoyalCaribbeanBlog.com are unofficial and subject to change.
Hearts of palm
Avocado, tomato champagne vinaigrette
Peter Yealands, Sauvignon Blanc, Marlborough-New Zealand
Sweet Pea Soup
Truffle Poached Quail Egg, Nueske Bacon
S. A. Prum, Riseling Kabinett, "Prum Blue", Mosel-Germany
Butter Poached Lobster
Cauliflower puree, piquillo pepper, frisee, caviar beurre blanc
Patz & Hall, Chardonnay "Dutton Ranch" Russian River Valley, California-USA
Braised Short Rib Ravioli
Horseradish cream, veal glaze
"Castello di Nipozzano", Riserva, Marchesi de Frescobaldi, Tuscany-Italy
Prime Beef Tenderloin
Morel mushrooms, Tuscan kale, smoked garlic potato puree
Oberon Michael Mondavi, Cabernet Sauvignon, Napa Valley, California-USA
"Chocolate Sabotage"
Duo of chocolate mousse, chocolate lava cake, ganache, vanilla ice cream
Sandeman Ruby Porto, Porto-Portugal