In:
Cruise ships from Royal Caribbean, Holland America, Celebrity Cruises and more joined together for an impromptu show of support for each other during a time when all cruise lines have halted sailings until the coronavirus threat passes.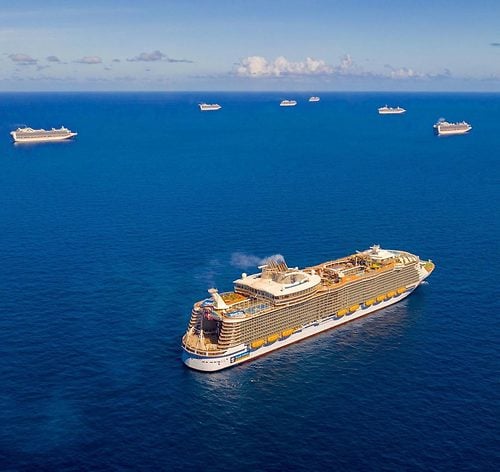 Photo by Liam Davison
Celebrity Cruises Captain Kate McCue shared a video on Instagram of Captains and bridge crew from across different cruise companies engaging in a horn salute every day at 7:30pm.
"On March 20th we started something special. With ships from different companies congregating in the same "neighborhood" it was a perfect opportunity to celebrate our solidarity."
Captain McCue calls this movement "#HopeFloats" and it is about letting everyone know that they are safe onboard, and that they wish the same for everyone around the world.
"We sound our horns, to let our crew and the world know that while we are strong, safe, and healthy on board, we are thinking of those at home and hoping the same for them."
These ships are massed together in the Caribbean as cruise ships wait for cruise lines to resume operations.
1) Wondering where the @RoyalCaribbean Ladies have gone during this time? I'll take you on a little tour with me as I check on the Fleet. pic.twitter.com/iL7ML1Ki79

— James Van Fleet (@JamesVanFleet) March 19, 2020