In:
Meyer Werft shipyard has announced Spectrum of the Seas is scheduled to leave its dock on February 25, 2019.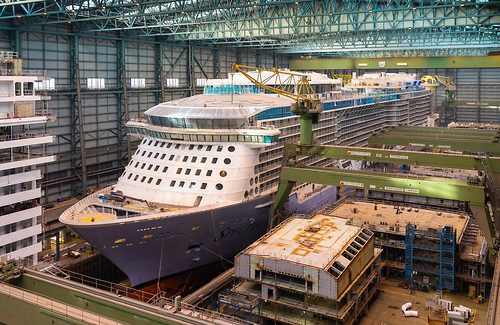 Once Spectrum of the Seas has left the dock, she will berth at Meyer Werft's out-fitting pier to be fitted with its funnel cladding.  If the weather holds up, the plan is for the North Star to also be installed on the ship.
The plan is for Spectrum to remain in the shipyard for further work and onboard trials until the ship's conveyance through the river Ems up to the North Seas, sometime in March 2019.
The ship yard reiterated that all of these plans are contingent on weather, and delays may result.  Before Spectrum of the Seas can berth at the out-fitting pier, the floating section (engine room unit) of the Norwegian Encore that is currently moored here will have to be moved to another berth in the shipyard port. Once the Spectrum of the Seas has left the dock, the floating part for the Norwegian Encore, which is due for completion in autumn 2019, will be maneuvered back into the free covered building dock II for further construction work.