Royal Caribbean offering up to 30% off Cruise Planner purchases with week-long sale
In:
Royal Caribbean is offering up to 30% off shore excursions, drink packages and internet packages this week.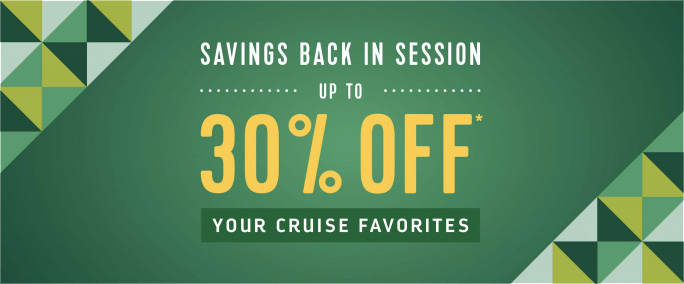 The weekend Cruise Planner sale applies to select sailings departing August 23, 2018 - February 15, 2019. Guests can check which discounts, if any, are available for their upcoming sailing by visiting the Cruise Planner site.  Keep in mind that not all sailings may see the sale applicable, nor are all offers significantly cheaper than previously posted.
The Cruise Planner sale runes between August 9, 2018 – August 16, 2018 and is valid on Adventure of the Seas, Allure of the Seas, Anthem of the Seas, Brilliance of the Seas, Enchantment of the Seas, Explorer of the Seas, Grandeur of the Seas, Harmony of the Seas, Independence of the Seas, Jewel of the Seas, Liberty of the Seas, Majesty of the Seas, Empress of the Seas, Oasis of the Seas, Ovation of the Seas, Radiance of the Seas, Rhapsody of the Seas, Serenade of the Seas, Symphony of the Seas, Vision of the Seas and Voyager of the Seas on select Alaska, Asia, Australia, Bahamas, Bermuda, Canada, Caribbean, Cuba, Europe, Hawaii, New Zealand, South Pacific & Transatlantic sailings.
To check if your sailing has this new offer available, log into the Cruise Planner on Royal Caribbean's web site look for any available offers.
Royal Caribbean says beverage packages are discounted up to 30% off onboard prices, shore excursions can be discounted up to 25% off on select tours (discount varies by ship), Up to 30% off onboard internet prices.  In addition, save 20% off lunch at Chops Grille, Jamie's Italian or Hooked.
If you spot a better discount on something you already pre-purchased, you should be able to cancel the purchase and then re-purchase the same item under this promotion.