Restaurant Review: American Icon Grill on Quantum of the Seas
In:
Today, we are taking in breakfast and dinner at Royal Caribbean's brand new Dynamic Dining restaurant, American Icon Grill aboard Quantum of the Seas.
American Icon Grill is one of five complimentary sit down restaurants aboard Quantum of the Seas and as the name implies, it serves up American comfort food that were handpicked from a variety of local favorites across the country.
American Icon Grill is open for breakfast, lunch and dinner, and we had a chance to try it out for breakfast and dinner.  Let's see how this new restaurant concept stacks up.
Atmosphere
American Icon Grill is located on deck 4, in the rear of the ship.  In fact, four of the complimentary restaurants are stacked on top of each other between decks 3 and 4.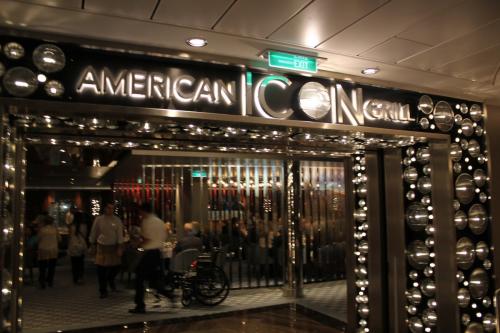 The entrance to American Icon Grill is a glitzy walkway that features a lot of lights, mirrors and glass.  It's bright and reminded me of a hip restaurant you might find in a large city.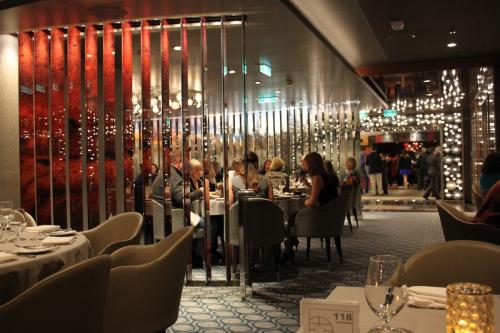 Despite the fact the restaurant is just one of many onboard that replace the main dining room, it's rather large.  It can handle 430 guests and on my visit, it was perhaps half full.
With all the complimentary restaurants, you will be asked if being seated with other passengers is okay.  On my visit, I managed to get a table alone but I certainly would not have minded the company.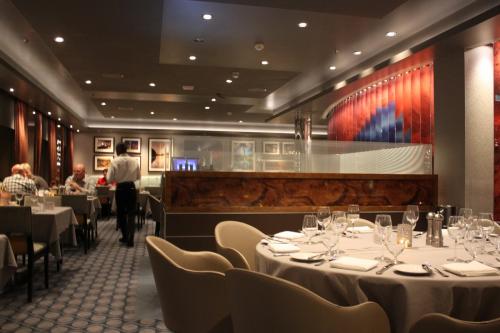 Eats
The menu at American Icon Grill is the same throughout your cruise and each meal has its own special menu.
We will start this review with breakfast and then move onto dinner.  
Eating breakfast in American Icon Grill reminded me very much of breakfast in the main dining room on every other Royal Caribbean ship.  In fact, the menu was nearly identical, with an assortment of eggs, pancakes, french toast and other basic breakfast foods.
I opted for the french toast, which was exactly like the french toast I was used to on other ships' main dining room.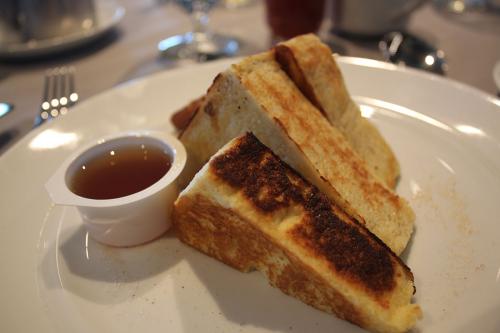 I did enjoy the french toast and found it to be soft and tasty.  The truth about breakfast on Quantum of the Seas, and all Royal Caribbean ships, is the menu is pretty similar every morning.  You dine at American Icon Grill because you prefer to be seated and have your food brought to you, as opposed to dining in the Windjammer which has essentially the same offerings but you must serve yourself.
At dinner, the menu opens up considerably and there's more than just what you can find upstairs.
At dinner, you are served an assortment of bread rolls.  I asked about the sourdough rolls and savory bites you typically found in the old main dining room, but they do not seem to be available here.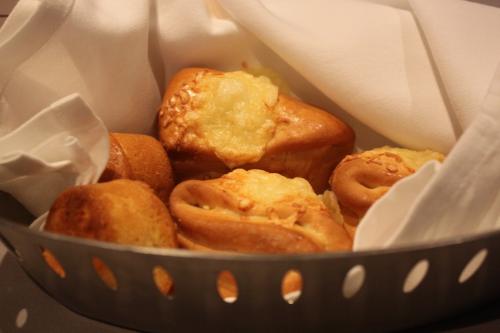 I did not want to fill up on bread but I did try the cornbread muffins, which were really moist and tasty.
My waiter suggested the New England Clam Chowder, and I happily took him up on that suggestion.  I'm no soup expert but I think I can tell the difference between soup that is fresh made and soup that comes out of can and this soup was definitely not born in a metal container.
I also sampled another appetizer, the Reuben Turnovers.  I had tried these earlier this year at another Royal Caribbean media event when Dynamic Dining was announced and loved it so I had to have the real thing.  
I'm a big Reuben fan to begin with and these are pastries filled with pastrami and cheese on a bed of sauerkraut and Thousand Island dressing.  This is what I hope heaven serves as appetizers because they were stupendous.  I am a Reuben fanboy but I do believe these little bad boys are quite good.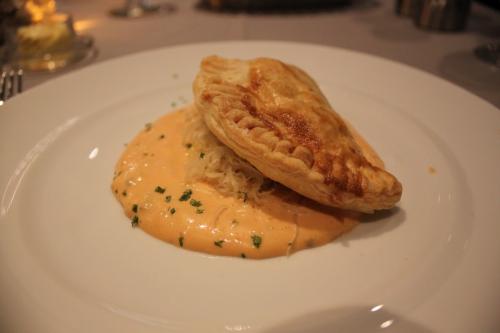 I also decided to try one of the signature cocktails American Icon Grill offers in what they call The New Southern.  It tasted quite good, but I'm not sure it's my new favorite drink.  But then again, what I love about cruises is trying new food and drinks!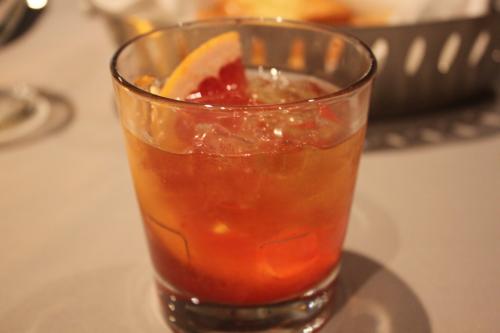 Back to the food, it was time for my entree and I went with what any self-respecting American would choose: a burger.  This was the dry aged steak burger, which sounded perfect to me.
This burger hit the spot, as it was juicy and had a lot of flavor with a nice toasted bun on top.  I also liked the pickles they served with it, which made the perfect topping.  
Not to be overlooked, the french fries have a parmesan garnish on top that reminded me of the fries one would get at Chops Grill.  I really enjoyed this choice.
Overall
I was surprised by American Icon Grill because of all the complimentary restaurants on Quantum of the Seas, I was looking forward to the others so much more that I overlooked this one. 
American Icon Grill had great tasting food across its menu, especially for dinner.  
After eating at American Icon Grill, I came to the conclusion it's like the last heir of the main dining room.  Breakfast (and lunch) are similar experiences to the main dining room and the food at dinner while more varied than what the main dining room offered, still felt like a similar experience. 
When I return to Quantum of the Seas in March, I will definitely be re-evaluating my dining strategy to include more stops here because I really enjoyed what I had.  We haven't reviewed the other complimentary restaurants yet on this blog but when we do, you will see that American Icon Grill stands out as a winner.