99 days of Quantum: Single cabin staterooms
In:
There's less than 99 days until Royal Caribbean's Quantum of the Seas debuts so we're counting down each day with a brand new blog post all about Quantum of the Seas. Read our blog each day for a new post all about this amazing cruise ship.
Single cabin staterooms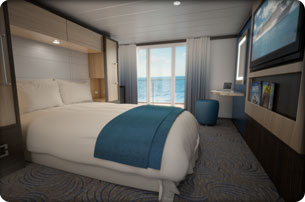 A big change in the cruising industry has been offering stateroom options to people cruising alone and on Royal Caribbean's newest cruise ship, Quantum of the Seas, there will be a new class of staterooms just for people that prefer to travel alone.
These new "studio" staterooms offer the single traveler accomodations without the hefty single supplement fee that was traditionally added to the cruise fare.
On Quantum of the Seas, Royal Caribbean has even added some single studio cabins with balconies while others have virtual balconies. In total, there are 28 studio staterooms, 16 interior, and 12 with balconies.
Super Studio Ocean View Stateroom with Balcony
The first single stateroom offers a stateroom that is 199 square feet in size and a 55 square foot balcony.  
Inside you will find a single full size bed, full bathroom.  
Studio Interior Stateroom with Virtual View
The studio interior stateroom measures 101 square feet and offers virtual views via your flat-screen television.  
There's also a full size bed and full bathroom.
Stay tuned for tomorrow's post as we celebrate 99 days of Quantum!