99 days of Quantum: SeaPlex
In:
Royal Caribbean's Quantum of the Seas debuts in less than 100 days so we're counting down all the great things about Quantum of the Seas. Each day we will post something about Quantum of the Seas to share with you.
SeaPlex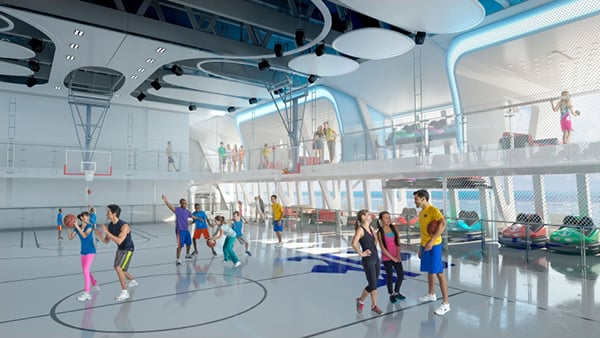 Royal Caribbean has a reputation for offering the very best in onboard activities, such as the rock climbing wall, ice skating, mini-golf and the FlowRider.  
On Quantum of the Seas, Royal Caribbean is introducing SeaPlex, a multi-purpose sports facility that can transform during your cruise to offer a variety of activities.
The big activity here is bumper cars, a first for any cruise ship.  The bumper car rides will last approximately 3 – 5 minutes and there will be up to 30 cars to choose from. Bumper cars will be offered throughout the day in SeaPlex. They are open to guests on a first come, first served basis.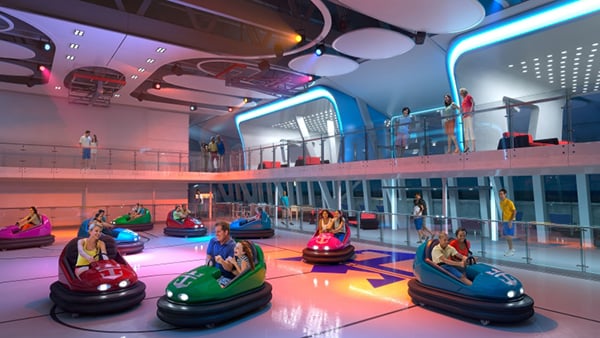 But there's way more than that: ping pong, basketball, roller skating, dance parties and circus school are also being offered in SeaPlex.
Circus school will be another complimentary activity that features a flying trapeze (if you're brave enough to try it).  Circus school also features Lyra hoops and juggling.
Since it's an indoor space, they can use it for a lot of purposes to keep the venue from getting stale.  There's an opportunity to go to SeaPlex a different times of the day and engage in completely different activities.
At night, SeaPlex transforms yet again into a dance venue.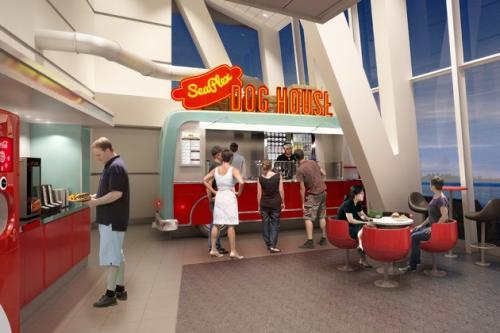 There's lots to do at SeaPlex but there's also food here too.  An on-site food truck will offer a variety of treats.  SeaPlex Dog House is first-ever food truck at sea serves up gourmet hot dogs for all to enjoy in the SeaPlex.  
SeaPlex Dog House offers different hot dog and sausage combinations to match the kind of fare you'd find in Chicago, Los Angeles, New York, Miami, Austin, Portland, and San Francisco.
Stay tuned for tomorrow's post as we celebrate 99 days of Quantum!