Royal Caribbean changes guest comment cards to electronic form
In:
Effective January 1, 2014, Royal Caribbean is retiring the old paper based comment card (guest satisfaction survey) and replacing it with electronic distribution post-cruise.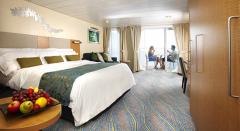 The change to an electronic format means the consolidation of comment cards into an email distributed invitation that will be delivered within 24 hours of debarkation.
Royal Caribbean hopes the new electronic surveys will improve efficiency and cost savings but more importantly a guest-driven approach that will foster engagement with our guests, placing the insights in the hands of the crew. 
The paper surveys have been in place for 40 years and have become a major way the cruise line gets important feedback from its customers.  Royal Caribbean boasts it uses the feedback considerably in making decisions. 
Royal Caribbean already collects email addresses from all guests over the age of 18 and these people will now receive an email invitation to participate in an online Guest Satisfaction survey on the day of departure. Guests will have 7 days to complete the survey, after leaving the ship. The survey works on smartphones, tablets, laptops and other computers. It takes approximately 7 minutes to answer all questions in the survey. All responses will remain strictly confidential. 
This new survey will launch on all ships for all sailings debarking on or after January 1, 2014.