Report: Royal Caribbean will drop Samana, Dominican Republic from itineraries next year
In:
According to Samana's Taxi Drivers Association, Royal Caribbean will drop cruise ship stops at the port of Samana in the Dominican Republic next cruise season.  Royal Caribbean follows Norwegian Cruise Lines in their decision to stop visiting the port.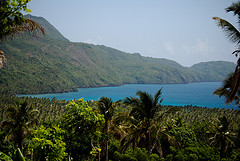 Royal Caribbean had scheduled cruise ship stops at Samana for its brand new Quantum of the Seas but quietly altered those itineraries to drop stops there.
Taxi Drivers Association president Dionisio Smith, quoted by hoy.com.do, said union members and other organizations of the province will hold a march on Wednesday adn 9am to demand the Dominican government's action for resolve the problems that pushed cruise ships away.
The announcement of Royal Caribbean pulling out worries service providers that rely on cruise passengers, which provides an estiamted RD$1.0 million to the local economy for each ship that docks.