In:
St Martin is one of my favorite islands to visit on a cruise for its sheer beauty.  Going into today, we had plans laid out, of which a majority didn't work out but we still ended up having a great time.
We were up at 7 like every other morning, in the Windjammer at 8 and off the ship at 9.  Nothing interesting to report other than the lines seemed longer in the Windjammer today.  Oh the hardships of cruising when you have to wait an extra few minutes for your omellete.
Prior to the cruise I had booked a local taxi driver to drive us around.  His name is Leo Brown and we met him on our cruise in February.  The man is genuinely concerned about our trip and really goes out of his way to help us all while asking for very little money.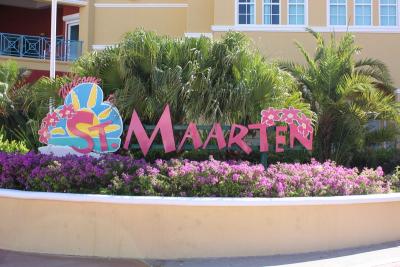 We had arranged for him to drive us from the port to Le Gallion beach for most of the day, pick up lunch for us at a local restaurant and bring it to us and then in the afternoon take us to Maho Beach to watch the airplanes take off and land and then return us to the ship.  He asked for just $20 per person.  Sold!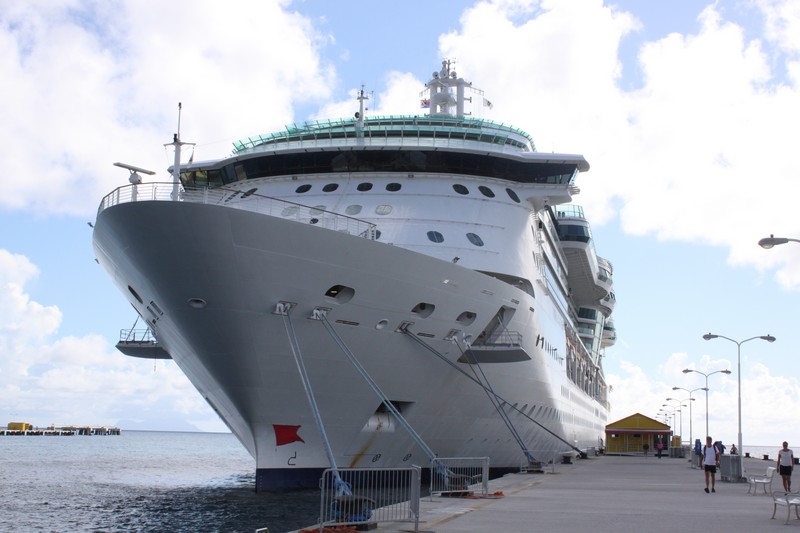 Leo picked us up at 9am at the entrance to the taxi area and off we went.  Our first stop was the local restaurant to check out the menu.  As it turns out, the restaurant was closed because of it being off season.  We decided it wasn't the end of the world and would just eat at the beach.  Off we went to Le Gallion beach and when we got there, we found the beach empty and once again, closed due to the off season.
For those counting at home, that's 0 for 2 so far in our plans.  We asked Leo for where to go for a beach and he said he knew a good quiet spot at Orient Beach.  A quick car ride later we pulled up to a part of the beach called "Bikini Beach".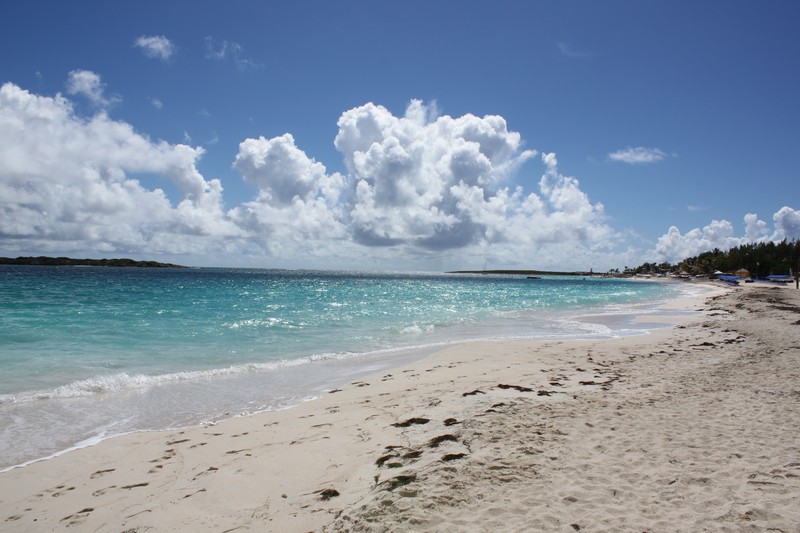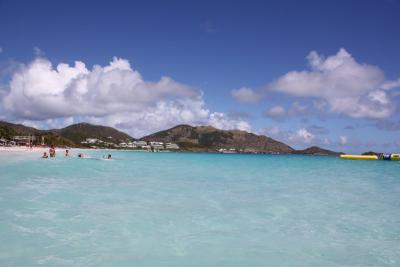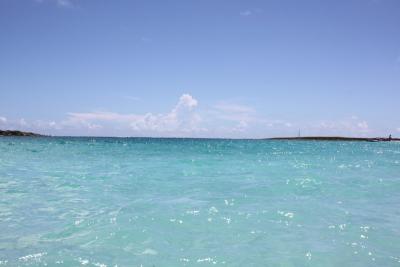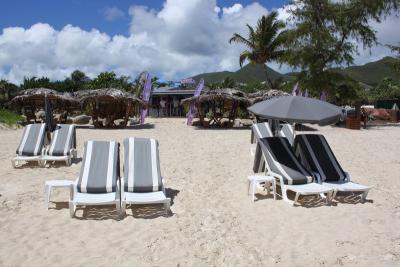 The beach has chairs and umbrellas for $10 per adult, so $20 for 4 chairs and 2 umbrellas.  There's also a full service bar and restaurant.  Moreover, the restaurant had a waiter that delivered food and drink to our chairs.  I call that perfect.
Then there's the beach.  To try to describe the beach here would be futile so I will just say it might be the most beautiful beach I've ever been to.  Crystal clear water that is an amazing shade of blue.  The water is also that perfect temperature where you can walk right it without any hesitation. There was a good bit of surf but the kids handled it well and the adults really enjoyed a little excitement in the water.
The beach is topless and I think we saw exactly 2 women topless.  Granted the beach was not very full but I wouldn't avoid the beach if nudity is a concern.  There's also about a half dozen people that will walk up and down the beach offering shirts, massages, CDs, horse rides, coconuts and anything else they can carry.  A simple no and they move on.
We were at Orient Beach from 10am until 2pm and the entire time Leo was there, in case we needed something.  At one point very early on it rained, and we scrambled to get our stuff under the bar's roof.  Leo was right there to give us a hand.  One time my daughter made a bee line for the ocean and he literally chased after her, throwing his shoes to the side as he grabbed her before she went in.  He was a tremendous help beyond just shuttling us around the island.
Probably the one negative to St Martin is the prices on the island (Leo not withstanding).  You will pay same prices in America, if not more, for food, drinks and entertainment.  In our time at the beach, we ordered about a dozen beers, a mixed drink or two, lunch for everyone and the bill came out to about $130 before tip.  Not terrible and the service was great.
At 2pm we gathered our stuff and sadly left Orient Beach.  Back in Leo's van, we headed towards Maho Beach to watch the planes land at the local airport.  On the way, Leo took us on a tour of the French side of the island and pointed out interesting things.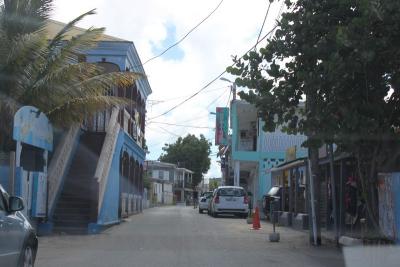 One at Maho Beach, we went to the Sunset Grill and saw there was one more scheduled landing.  As it turns out, there would be another unscheduled landing and a takeoff, so we essentially got the full experience.  The bar is also clothing optional, with women having the option of drinking for free if they go topless at the bar.  While neither of our wives were willing to take one for the team for some free booze, we did find it fun.
When a plane does land or take off, it's an experience, with everyone flocking to the fence to watch.  It's a great specticle and I am glad we took the time to see it for ourselves.  Can't say we could have spent the whole day there but it was a nice quick excursion.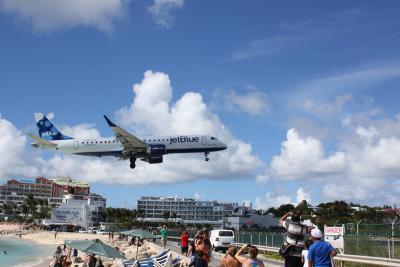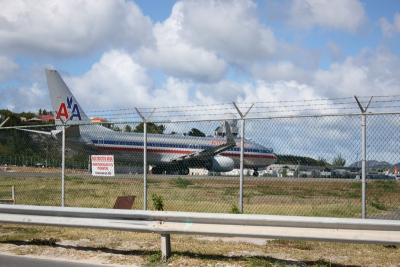 The plane landing/takeoff experience is tremendously touristy at this point but it's good fun for adults and kids (nudity aside). If you have an extra hour, I would recommend checking it out at least once.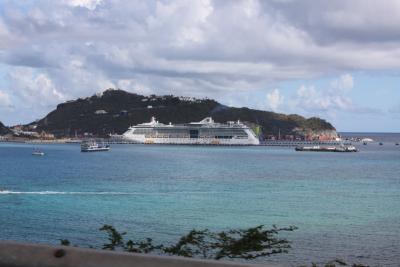 We hopped back in the van and Leo took us back to the cruise ship with plenty of time to spare before sailaway.  Considering most of our plans fell through, we had a great time at all our stops and would love to spend a few more days in St Martin.  We tipped Leo handsomely for his service and back on the ship we went for showers, a change of clothes and some relaxtion before dinner.
Tonight our plan was to drop off the kids with an in-room babysitter and have dinner at Chops Grille.  Before that could happen, we had to feed the kids so it was off to the Seaview Cafe for their dinner. It wa far busier this evening than the previous time we went there.  Food was still great, but we had to wait considerably longer for the food. Not the end of the world, just a different observation.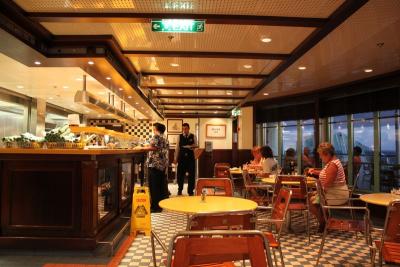 After dinner, the women and kids went to see the evening show onboard, which was a mix of Broadway and West End songs.  They reported the show was good although they were not familiar with all of the songs despite both being self-proclaimed Broadway buffs. 
Us men despire the best of intentions, ended up in the casino.  We really did try to just go somewhere to have a drink but a few of the bars were closed for private events so we had "no choice" but to gamble.  The casino was very empty at around 7pm and we had bad luck with the 3 card poker but made up our money with roulette.  
The in-room babysitting was next and this was our first time trying this option out. The cost is $19 per hour for up to 3 kids.  Despite what you may read online, the fact is you can throw in any 3 kids from any 3 staterooms in the same room for the cost of $19 per hour.  So my daughter and our friends' son were in the same room, which made the cost far more reasonable. 
We then headed to Chops Grille for dinner.  Chops is located directly across from the Schooner Bar on Jewel of the Seas and I found it odd just because Schooner Bar was quite loud with the music trivia playing and that resulted in music making its way into Chops.  I asked for a table further in the restaurant away from the doors and didn't hear the music too badly.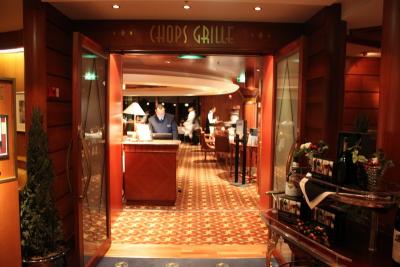 As for the food and such in Chops, I will save the full details for an upcomong review but I can say Chops was as good as I remembered.  Consistantly good food across the board and service was great as well. I'd recommend eating at Chops if you happen to sail on Jewel.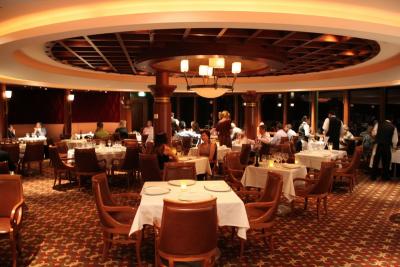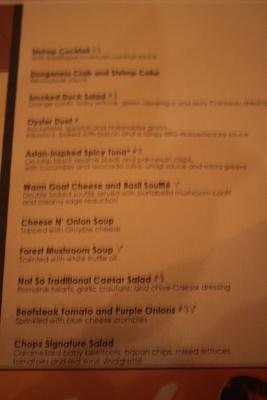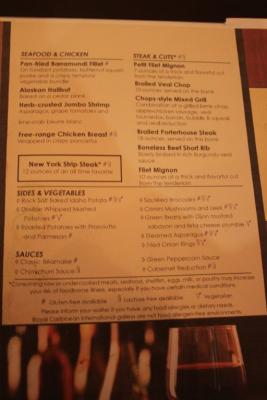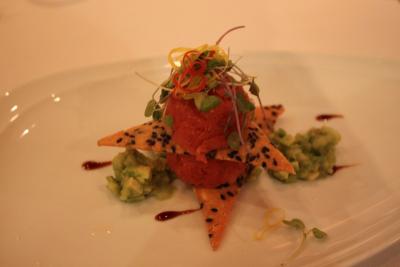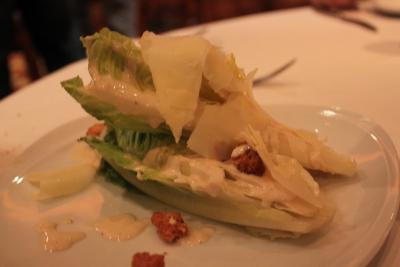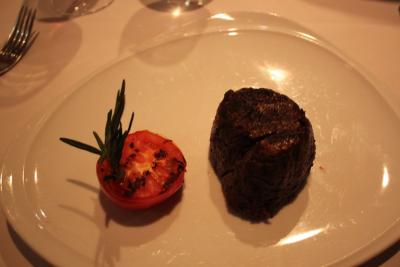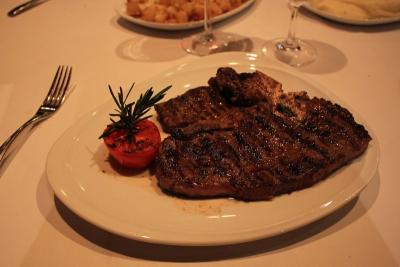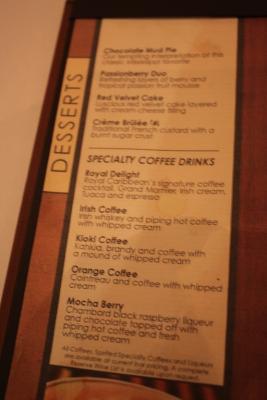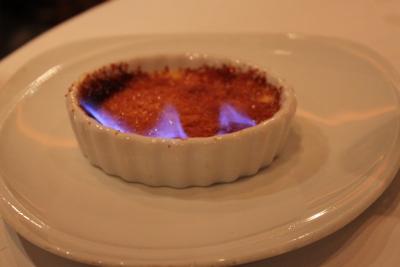 We relieved the babysitter after about 2 hours, which by the way there are 2 babysitters.  They do that for liability reasons so in case one kid needs the full attention of one of the babysitters, the other kid(s) is not being ignored.  Both kids were sleeping and the babysitters were not crying, so I considered it a win for us.
Another observation is the evening entertainment in the Centrum. Each night from 6pm until midnight there is live music in the Centrum.  That's usually a good idea but the "noise bleed" into the staterooms near the Centrum is quite bad.  Our room (8102) is the first stateroom close to the Centrum and our friends (8088) are the same but on the opposite side of the elevator bank. In both rooms, you can quite clearly hear the music and that's caused varying degrees of problem going to bed since we are in bed by 10:30-11.  
I know I've read plenty of message board posts about staterooms being noisy and while I do love my rather large balcony and convenient location, I would not book our room again just to avoid the noise from the Centrum.  What boggles my mind is on ships with a Royal Promenade, they do not play as much live music this late there.  I don't know why the real loud stuff isn't reserved for the pool decks, especially since it's not raining or anything.  Alas, I felt the need to share my experience.
Tomorrow we are going to Antigua and considering how close Antigua is to St Martin, our ship feels like we are going no more than 5 miles per hour.  Will try to get more WiFi tomorrow to share more during the day.
Thanks for following and the great coments so far!
My apologies but the internet cut out half way through posting this blog so a few photos are missing.  I will try uploading them on Tuesday.