Royal Caribbean to offer cruises from Tokyo in 2014
In:
Royal Caribbean has signed an agreement with the Tokyo Metropolitan Government for a series of ex-Tokyo sailings on Voyager of the Seas in 2014.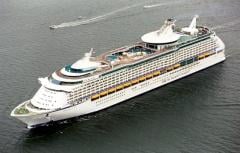 The memorandum was signed by Royal Caribbean Regional Vice President for Asia Zinan Liu and Mitsuchika Tarao, Tokyo Metropolitan Government Director Deneral, Bureau of Port and Harbo while they were aboard Voyager of the Seas on Saturday during a Tokyo stopover on a 12-night cruise from Tianjin.
Voyager of the Seas' 2014 Tokyo season will start with a 10-night sailing from Singapore on April 10 with calls at Hong Kong (overnight), Kaohsiung, Taipei (Keelung) and Nagasaki, before arriving in Tokyo on April 20. From Tokyo, the ship will then feature a six-night round-trip South Korea and Nagoya cruise to Jeju Island, Busan and Nagoya on April 20, a nine-night round-trip cruise to Taipei (Keelung), Kaohsiung and Hong Kong on April 26 and a four-night Tokyo to Taipei cruise visiting Kobe and Naha, Okinawa on May 5.
Voyager of the Seas will also offer a seven-night round-trip itinerary from Taipei (Keelung) visiting Nagasaki, Beppu and Osaka departing May 9.