In:
The Caribbean island of St. Lucia is "fully committed" to redeveloping Port Castries and is looking to Royal Caribbean to help.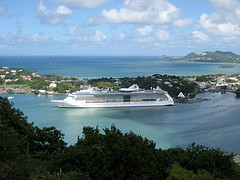 Deputy Prime Minister Phillip Pierre announced the island is looking to transform Port Castries into a "modern shopping plaza for cruise passengers, visitors and locals."
According to a government statement, officials from St Lucia recently held talks with Royal Caribbean, which could be considering a partner on the project.  St. Lucia revealed it had a meeting with Royal Caribbean back in March to explore the possibilities further.
More recent discussions between the government and Royal Caribbean have been held to provide a timeline to Royal Caribbean to finalize discussions with the reported partner and to "proceed with discussions with other potential partners if that deadline is not forthcoming."