In:
Royal Caribbean is adding what it calls the "Barbie Experience" to target kids ages four to eleven years old that will offer Barbie-themed movie nights, story times and other activities at its children's program.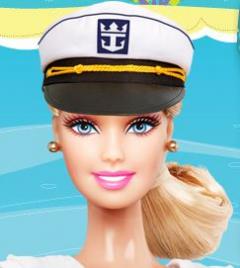 Girls can sleep in Barbie themed cabins, design Barbie outfits,  go to tea and participate in a fashion show at the end of the cruise.  Royal Caribbean is offering the "Barbie Premium Experience" that will cost $349-per-person. 
The premium experience will offer girls a dance class, fashion show and opportunity to take home a cruise ship themed Barbie doll with outfits.
The Barbie Experience is targeted at little girls although Royal Caribbean does expect some adult fans to be interested as well.
Royal Caribbean vice president of sales Vicki Freed commented that the line had tested the Barbie Experience with stellar results, "Barbie was a smash success in a test last fall on the Freedom of the Seas. When you think about all the families we carry, this is a really great fit."
The new offering will become available across Royal Caribbean's fleet between January and March of 2013.  Royal Caribbean will start taking bookings in October 2012.  
Royal Caribbean also kicked off the "Win a Barbie Cruise Vacation" sweepstakes online.