The Telegraph reviews Splendour of the Seas
In:
The UK newspaper, The Telegraph, recently sent Jane Archer to review Splendour of the Seas after her $53 million revitalization.  Splendour is currently offering seven-night sailings around the Greek islands and Turkey, from Venice through November.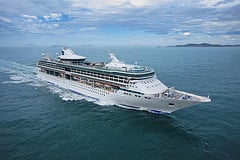 In terms of the new changes to Splendour, Archer thought the money spent helped give the ship new life but thinks, "a few more million should have been directed at paintwork and glass, which were looking very shabby in places."
In addition, the Centrum was retrofitted and given a new role but Archer wasn't that impressed, "As part of the refit, the atrium was renamed Centrum and given a new role as an entertainment area with girders installed above from which aerialists could perform. It has potential but the one show I saw during a seven-night cruise was most disappointing and over in a flash."
Archer also reported that the newly refurbished staterooms do offer new furnishings but the promise of an iPad in every stateroom has thus far only made into the suites onboard.