Royal Caribbean pledges to help Greece develop cruise industry
In:
Royal Caribbean, a member of the European Cruise Council (ECC), has pledged to help develop the Greek cruise market in an announcement by Royal Caribbean's Vice President of Commercial & New Business Development John Tercek to the Greek Ministry of Culture and Tourism.  The ECC has offered to act as a hub to interact with the Ministry to inform member companies of Greek developments and issues of common interest.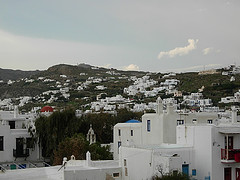 On behalf their companies represented by the ECC. Giora Israel (Vice President of Carnival Cruise Line), and John Tercek confirmed the participation of their companies to the commission and the offer to provide expertise to Greece and expressed interest to develop and to extend the routes of cruise in the Greek seas and to add new ports of call. 
Last Wednesday, Greek Deputy Minister of Culture and Tourism George Nikitiadis met with Tercek, in Thessalonicawhere  they discussed the possibilities of the port, and the government's efforts to capitalize on important cruise market, which, as the figures show it has an important role in the coming years the development of tourism in Greece.