Royal Caribbean meets with Savannah, Georgia officials
In:
Development officials from Royal Caribbean met with Savannah Alderman Tony Thomas and Acting Assistant City Manager Marty Johnston earlier this week after Royal Caribbean learned the city was interested exploring the possibility of bringing a cruise line to the city.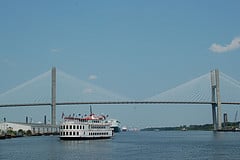 The meeting was merely an introduction but part of a first step.  Savannah officials are planning to meet with two other cruise companies later this month before making a decision.
City Manager Rochelle Small-Toney's thoughts on the meeting were good, "That's very encouraging when cruise lines are trying to seek out Savannah and saying, 'What is happening?'".
The city of Savannah is once again interested in luring a cruise line to stop in the city after seeing the success that nearby Charleston, South Carolina has had with its foray into cruising.