Royal Caribbean will resume stops in Japan
In:
After the devastating earthquake struck Japan earlier this year, Royal Caribbean halted all stops to the country but we're hearing now that Royal Caribbean is planning on resuming port of call service to the Asian country.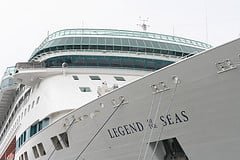 Thanks to Japan's ability to stabilize the situation, Royal Caribbean's Legend of the Seas will start making calls in Japan starting with Okinawa on  August 1, 2011, following its Hong Kong summer season.
Legend of the Seas will offer 11 sailings including a number of charters to various Japanese ports-of-call such as Okinawa, Fukuoka, Kagoshima, Beppu, Nagasaki and Hokkaido, out from Hong Kong, Tianjin and Shanghai, from late July to early October.
These newly planned itineraries are based mostly on Legend of the Seas' original trips that were planned for this year and are areas that are not affected by the tsunami and nuclear crisis.
Royal Caribbean Regional Director of Asia Pacific thinks its time for Royal Caribbean to return to Japan, "Judging from the current situation in Japan, we are well-assured of the safety of traveling to Japan. Japan has always been an attractive tourist destination and its show of great resilience in the face of the recent crisis has given travelers the confidence to visit the country again. Travellers also understand that visiting these cities on a cruise ship is a safe and hassle-free option."